Studenter! Students!
2012-09-04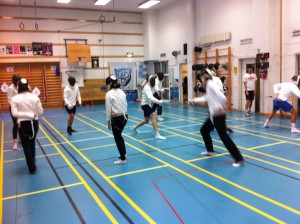 Tack till alla glada studenter som deltog i gårdagens prova på-fäktning!
Det var många av er som var intresserade av att delta i vår nybörjarkurs, den så kallade fäktskolan. Fäktskolan pågår under sex veckor och avslutas med en informell tävling. Du får lära dig grunderna, träna teknik och också – precis som igår – fri fäktning. Kursen kostar 600:-.
Passa på att anmäla dig redan idag, så att du är säker på att få en plats på den fäktskola som börjar nästa fredag (14 september, 18:30-20:00)! Mejla till
borjafakta@linkopingsfaktklubb.se!
Thanks to all happy students who participated in the "try fencing for free"-event yesterday!
Many of you told us that you would like to participate in our beginners' course, the so called fencing school. During six weeks, you learn the basics of fencing, train technicalities like steps and hitting techniques and get to – like yesterday – do a lot of free fencing. The price for the course is SEK 600.
Sign up today to be certain to get obne of the places in the fencing school starting next Friday (Sept 14, 6:30-8:00 pm)! Send an email to